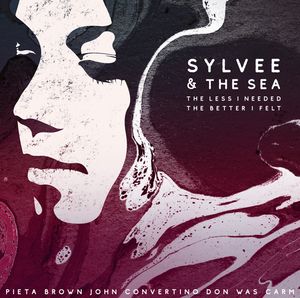 LIMITED EDITION TAPE CASSETTES AVAILABLE NOW! 
SYLVEE & THE SEA's first release The Less I Needed The Better I Felt is a vivid collection of experimental instrumentals by Indie-Americana songstress Pieta Brown in collaboration with John Convertino (Calexico), CARM (CARM, Bon Iver, Y Music) and Don Was (producer, musician, president of Blue Note Records) scheduled for release October 4th on Righteous Babe Records.  
Started spontaneously from a distance during the isolation of pandemic times through a rapid-fire ping-pong session between Pieta Brown and John Convertino, the free-form-in-the-moment melody and tone explorations quickly became coherent instrumentals through the exchange.  With upright piano, electric guitars, drums, and vibes at the sonic center, the energy of the collaboration expanded further when Pieta sent a handful of the tracks to Carm (horns) and Don Was (bass) who responded openly from their outposts as well.  The result is a highly emotive and playful piece reflecting both the fragmentation and openness of the times.  Traces of influences as varied as Kim Gordon, Keith Jarret, Erik Satie, Alice Coltrane, and Mulatu Astatke weave together to make The Less I Needed The Better I Felt a mesmerizing originative quest that can be listened to on repeat.  
Lauded for her songwriting, singing and inimitable sound and style, Pieta Brown's music has been used in various movies (including Every Thing Will Be Fine : Wim Wenders) and TV shows (including Jane The Virgin).  Recently commissioned by the progressive and internationally recognized Walker Art Center in Minneapolis, MN to curate and score 60 minutes of experimental films from the Walker archives and beyond, Brown chose to highlight avant-garde films by women and performed her experimental score live with her band to great reception in August 2022. Brown's new collaborative project SYLVEE & THE SEA is her first fully instrumental release.